On Valentines Day, February 14, 2022, at 3:30pm, a porch pirate we'll call Drake Deranged stole a package from the home of Phoenix, Arizona resident Natalie near Cave Creek & Union Hills.
The package contained bridesmaid dresses! Natalie says that he was casing the neighborhood beforehand. When he stole the box, he replaced it with a box of medical supplies.
We have a picture of the thief, who appears to be a white man with a beard in a Copper State Brewing Co. t-shirt, sporting a beard, aviator sunglasses, and a backwards cap, as well as some red shoes.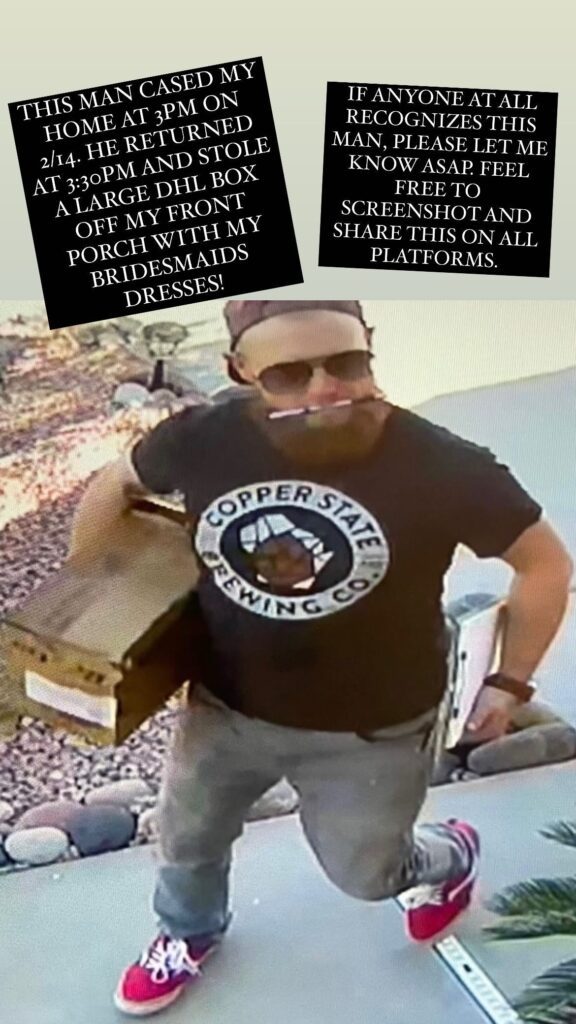 Do you have any information about this theft? Call Phoenix Police Department 602-262-6151 Reference Incident/Case #: 2022-251545. Use the form below or contact [email protected] to share your tip about this case or to get your own porch piracy case listed for free! We will keep you anonymous if you prefer.